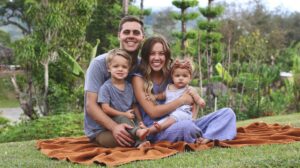 Michael and Morgan Leblanc
Throughout Michael & Morgan's dating relationship, they had the opportunity to serve overseas together multiple times. Near the end of one of those trips, they found themselves spending a lot of time in conversation & prayer about what the next steps might look like, both vocationally and relationally. After much thought, they applied and were accepted into a three month Tribal Church Planting Internship with Ethnos360 (formerly known as New Tribes Mission) in Papua New Guinea, in the fall of 2014.
What began as merely a vision trip led to the Lord making it clear to Michael and Morgan that serving in Papua New Guinea as tribal church planters was what He was calling them to. They both graduated from undergraduate studies in the Spring of 2016 (Michael from Biola University and Morgan from California Baptist University), got married that July, and finished 2 years of Missionary Training Program with Ethnos360 in April of 2019.
The LeBlancs are currently in a transitional period as they prepare to move their family overseas to Papua New Guinea (PNG). The hope is to move full time to PNG in January of 2020 and work among an unreached and unengaged people group that has yet to hear God's word in their own native tongue. Michael and Morgan believe God desires for people from every tribe, tongue, and nation to hear and read His word in their own language, and their passion is to play a small role in God's global mission to reach all people for His glory. Keep in touch with the LeBlancs by visiting their website: www.theleblancfamily.org.