We believe that nothing promotes peace and health across our world like the spreading of the gospel. It both renews individual lives and reweaves the fabric of whole communities. We desire to build a generation that understands that each of us is called to be missional in every area of our lives. Therefore, we are making it our mission to spread the gospel to the ends of the earth (Acts 1:8). We accomplish this through the proclamation of the gospel through word but also through our loving acts.
Meet the missionaries & ministries we support: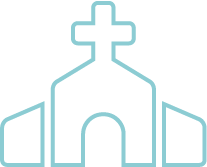 Church Planting
One of the most effective ways the gospel is spread to the nations is through church planting. Wanting to be more intentional in our efforts to be a church-planting church, OCF formalized its partnership with the Acts 29 Network in 2017. Over the years OCF has partnered with Acts 29 in order to plant churches in places like Seattle, India, Northern California and Southern California.
Because these partnerships have been so successful in the past, we took the step of formalizing our role within the network. This includes being a support church for new church plants financially, being a mentor church, and using the resources of our people and gifts to provide hands-on support for local church plants.
Additionally, we have been asking the Lord to help us identify and raise up church planters from within our own church and we are excited for what the Lord will do in, and through, this partnership going forward.
OCF York House
The OCF York House will be a supportive transitional home in Hawthorne meant to bridge the gap from homelessness to permanent housing. The York House is an extension of the current transitional program already active through our partnership with Family Promise of the South Bay.
"For I was hungry and you gave me something to eat, I was thirsty and you gave me something to drink, I was a stranger and you invited me in…" | Matt 25:35
FAMILY PROMISE
Family Promise of the South Bay is a network of local churches working together to support homeless families as they seek employment and housing. OCF is part of this network and will be hosting families for one week every three to four months. There are various ways you can serve from providing food to serving as an evening or overnight host. For more information about this program and to find out how you can be part of our next hosting, please contact Shannon Ferguson.
YOUNG LIFE LAX
Young Life is a high school outreach ministry here in the LAX area with a passionate belief that every kid deserves to know about Jesus. Young Life pursues today's local youth with endless opportunities to "come as you are" and meet Jesus including club, bible study, camp, and on-going outings. If you'd like more information about Young Life and the ways you can partner with this ministry, please contact Annah Cameron.
HAVEN ACADEMY OF THE ARTS
OCF's relationship with Haven Academy of the Arts goes back many years. Haven Academy is a non-profit organization that seeks to develop character in future leaders through the performing arts and give them the tools, life skills, and sense of purpose they need to leave a legacy in our community. Haven Academy provides quality performing arts training for youth ages 3-21, founded on Judeo Christian values, with an emphasis on character development. For more information about Haven Academy, please visit their website or contact Rebekah Kellaway.
PREGNANCY HELP CENTER
The Pregnancy Help Center in Torrance exists to provide a safe, confidential and caring environment for women facing challenges related to an unexpected or crisis pregnancy. The center offers women practical help through counseling and other services leading to an informed choice in hopes that they will make a viable decisions for themselves and their baby. The center is always looking for new volunteers to serve as lay counselors, RN's and office help. If you would like more information about the center and how to get involved, please contact Tom Freitag.
S.A.Y. YES!
S.A.Y. Yes! exists to walk with youth and their families from 1st grade through high school providing role models, love and nurture, school support, and encouragement to believe in who they are becoming. S.A.Y. Yes! provides a structured elementary and teen youth center every Tuesday through Thursday. It's focused not just on providing a safe place for our kids after school, but rather in making a deep relational investment in their development as people. Getting involved as a volunteer is a great way to see first-hand what the S.A.Y. Yes! center is all about. For more information about S.A.Y. Yes! and becoming a volunteer, please contact Stan & Wanda Yetter.
LOVE IN THE NAME OF CHRIST (LOVE INC)
Love In the Name of Christ South Bay (Love INC SB) connects people in need with community agencies, church ministries and caring Christians so that those in need are not turned away.
By connecting people with the right resources or combination of resources for their unique situation and circumstance, Love INC actually provides hundreds of different types of services. And because their goal is transformed lives, Love INC's focus is not only providing needed services but also building relationships. Not only are physical needs met, but emotional and spiritual needs are also met. People receive God's love through the caring Christians who serve in His name.
If you know of someone who needs food, clothing, shelter, utility assistance, counseling or help of any kind, please put them in touch with Love INC's call center (310) 831-5683.